This harbourside town in the island state of Tasmania mixes old world charm with the new and exciting. With natural beauty, eccentric art and a thriving food scene on offer, Hobart is a must-visit destination.
What To Do
Hobart can be tackled in a weekend, but once you dive into this city you will want to spend more time here. From historical treasures to modern day marvels, slow down and enjoy Hobart at the pace of the locals.
Salamanca Market
One of the most visited tourist attractions in Tasmania, Salamanca Market has earned its spot as a must-see. This street market, on Salamanca Place on the Hobart foreshore, runs every Saturday morning. Sip coffee as you roam the stalls full of local delicacies, clothing, jewellery, ceramics, books, antiques, records, plants and much more.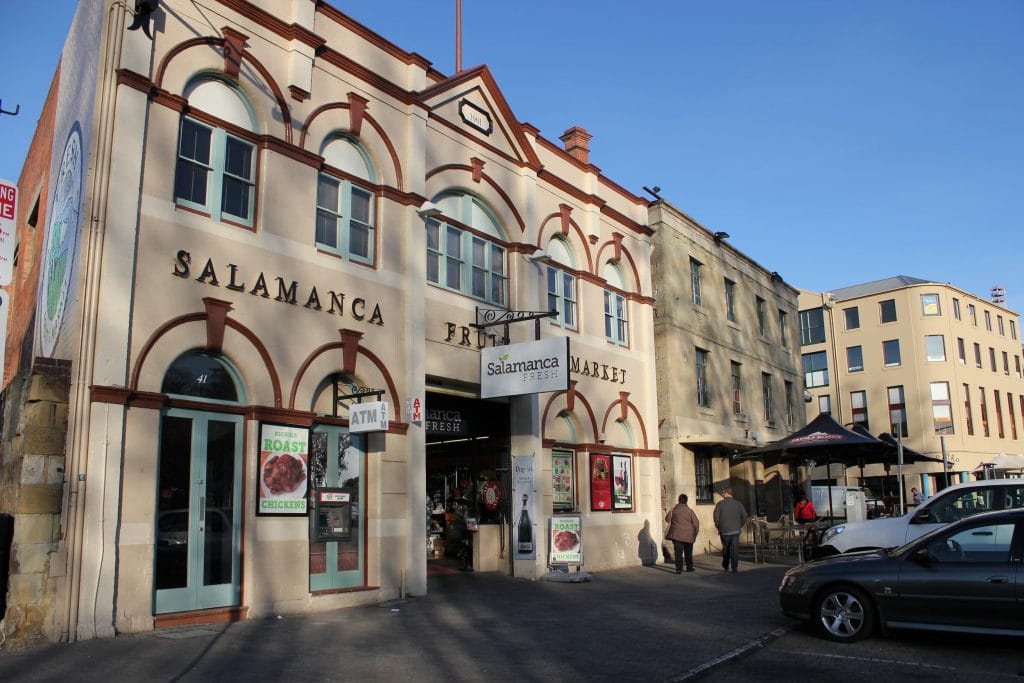 MONA
MONA (or the Museum of Old and New Art) is located just outside of Hobart's city centre and accessible by ferry up the Derwent River. The museum is world-famous for its provocative and sometimes controversial exhibitions. There is also a winery and restaurant onsite, making it the perfect afternoon trip.
Port Arthur Tour
Port Arthur is a World Heritage listed historic site and well worth the one-hour drive south. Tours will take you into the history of Tasmania's penal colony, with access to more than 30 historic buildings, ruins, restored houses, heritage gardens and walking trails
Mount Wellington / Kunanyi
This impressive mountain towers over the city of Hobart and offers incredible views of the city and beyond. The best way to see Mount Wellington / Kunanyi is by walking or cycling the descent. Many trails are available, with shuttle buses taking you to the top to enjoy the scenery.
Cradle Mountain / Lake St Clair National Park
Located a four-hour drive from Hobart, Cradle Mountain in the Lake St Clair National Park is the sixth highest mountain in the state. With an elevation of 1545m, it offers a challenging walk for hiking enthusiasts and plenty of bushwalking to enjoy.
How to Get Here
Hobart is serviced by an international airport, with limited flights. Many travellers will come via one of the larger mainland cities, with daily domestic flights from Melbourne, Sydney, Brisbane and Adelaide. The airport is situated 17km from the city centre and is easily reached by shuttle bus.
For a slower travel pace, try the Spirit of Tasmania ferry. Travelling from Melbourne to Devonport (in northern Tasmania) across Bass Strait, it allows more a more relaxed travel experience and the ability to bring your own car. Driving from Devonport to Hobart takes three hours.
When To Go
The most southern state is colder than the rest of the country, and the best time to visit Hobart is generally in Summer (December to February). Although travel at this time is expensive, it allows you to enjoy the many outdoor activities. Late Spring and early Autumn are also good options. If travelling in Winter (June to August) prepare for the possibility of snow.
Things To Know
Day Trips
Hiring a car is a great idea when visiting Tasmania. With so many amazing day trips on offer, your own set of wheels makes getting around easy.
Food
Tasmania produces beautiful fresh produce. Make sure you eat at one of the many acclaimed waterfront restaurants in Hobart and experience the seafood.
Weather
The cold can be a shock to many travellers used to higher Australian temperatures. Pack appropriately and wear plenty of layers.
TAS
42.8826° S, 147.3257° E
Your API key has been restricted. You may upgrade your key at https://www.weatherbit.io.